Best Overall
1" auto-rotating ceramic barrel
Cool outer housing
Adjustable temperature, timer, and curl direction settings
Best for Fine Hair
Open barrel design less intimidating than other automatic curlers
Works best on longer lengths
Curls in both directions
Long Lasting Curls
Able to create well-defined ringlets and waves
Works well on natural hair
Curls last a long time
If you want beautiful curls or waves but don't enjoy actually curling your hair, it might be time to consider an automatic curling iron.
The idea is pretty simple: the appliance does the rotating for you so all you have to do is hold the iron while it curls. To understand how one works, we'll look at the different kinds available and how to pick the best automatic curling iron for your hair.
Best Automatic Curling Irons
The CHI Air Spin N Curl is a chamber style rotating iron that wraps your hair with the push of a button and beeps to let you know when to release. It looks like a torch, with a tulip-shaped top that has a short rotating barrel inside.
One of the biggest benefits of this curler is that you won't burn yourself while styling your hair. The heated barrel is surrounded by an open chamber, and the outer housing only gets warm to the touch.
You can also control the direction of curl to flow either towards or away from your face. This is one of the biggest pluses for me, as I get rather uncoordinated and klutzy when alternating my curl direction using a regular curling iron. I normally get tighter curls in the direction I'm most comfortable twisting, so it's nice to be able to get consistent curls in both directions.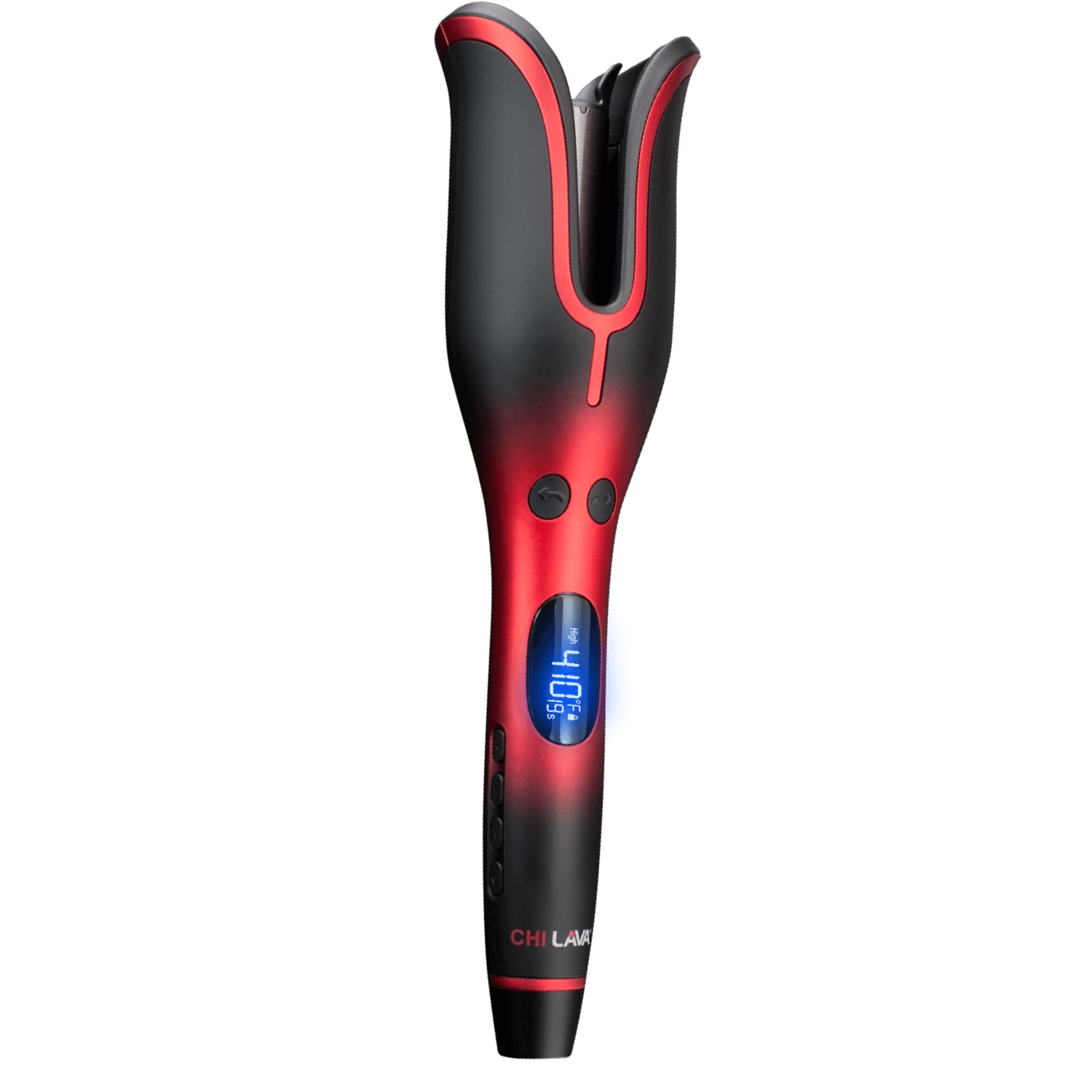 To use, hold the Air Spin N Curl upright near your scalp and place a section of hair near your roots on top of the barrel in the center of the chamber. It will automatically draw your hair in through the ends once you press and hold the Spin button.
If you want to release your hair at any point, just pull the iron down to let your hair go. It doesn't lock your hair in the chamber, so if you want a looser wave, you can always release sooner, or leave it in longer for a tighter curl.
The main drawback to the Air Spin N Curl is that it's not great for shoulder-length or shorter hair. The chamber is bulky, which makes it difficult to curl hair near your scalp due to the size of the housing.
Pros
Pre-set timer and heat settings for fine to coarse hair
Ceramic barrel is less damaging to your hair
Outer housing doesn't get hot
Adjustable temperature controls (180°F – 410°F) + digital display
Comes with a cleaning tool to keep barrel free of product buildup
Cons
Bulkier than a traditional curling iron
Not good for short hair
If having your hair twirled into a chamber gives you the heebeegeebees, the KISS Ceramic Instawave Curling Iron might be more your thing.
The curler has 4 rotating prongs at the base of the barrel that help grab and twirl your hair around the rod. Controls are simple – Off, Low, and High (420°F) are the options. You just place a section of hair between the barrel and the prongs, then press the appropriate arrow button for the direction you want the curler to turn.
The low setting is good for fine hair or if you want loose waves. Otherwise high works well for tighter curls (which also requires a longer set time).
The Instawave is definitely better for longer hair (even though they claim it works well on short hair too). Shorter hair just doesn't twirl and stay on the rod as easily, especially if you have stiff or coarse hair.
If you have thick hair, make sure to use smaller sections at a time for a nice ribbon curl that stays.
The key thing to remember is that you need to hold the iron vertically upright while curling. It might take some time to adjust to the positioning if you're used to using a manual curling iron.
Overall, this is a good curler if you don't have a lot of experience curling your hair or struggle with regular curling irons. It takes a bit of practice but once you get the hang of it, it's an efficient way to create nice curls without a lot of effort.
Pros
Curls in both directions
Works well on fine and thin hair (if long enough)
Auto shut-off after 90 minutes
Heats up quickly and curls more efficiently than a traditional curling iron
Cons
Temperature settings are high and low only
Doesn't work as well on overly thick, coarse, or short hair
The INFINITIPRO BY CONAIR Curl Secret is a V-clamp chamber-style curler.
Many gals who can't get any sort of curl with other curling irons find the Curl Secret great at creating well-defined curls and giving you pretty hair you wouldn't otherwise be able to do yourself.
I'll be honest, it is rather scary-looking. Who wouldn't be afraid of clamping your hair in this thing and having it suck your strands into the curling chamber?
Once you get past the initial freak-out and learn how to use it though, it does an amazing job of smoothing and curling hard-to-style hair with minimal effort. There is a bit of a learning curve when you start out, so be patient if you don't get the hang of it right away.
The way it works is you place a small section of hair (1″ or less) into the chamber and then press the iron closed so that your locks are clamped inside. It then automatically sucks the length of your hair into the unit and around the barrel.
There are 2 heat settings (high is 400°F) and 3 timer settings (8, 10, or 12 seconds) for you to customize depending on how tight or loose a curl you want. The unit beeps to let you know when to release.
One note of caution: be careful with how you hold the iron – the open/circular side should face your scalp at all times. Also, don't try to cram too much hair in each pass, or else it might get tangled inside and you'll have to release and curl it again.
If you try to jam too much hair into the chamber, the machine will not suck your hair into the chamber. You'll have to use a smaller amount of hair.
For those who are curl-challenged, the Curl Secret makes it pretty easy to create nice curls and waves without a lot of fuss.
Pros
Cuts down on styling time
Choice of heat and timer settings for tighter or looser curls
Cool outer barrel prevents burns
Works well on natural hair
Curls last all day or longer
Cons
Only curls in one direction
Hair can get stuck if not used correctly
What is an Automatic Curling Iron?
An automatic or rotating curling iron is a hair styler that winds your hair around the curling barrel with the press of a button. Some automatic curlers come in the shape of a V-clamp where you place a section of hair between the two sides and press together.
Either way, the appliance wraps your hair around the curling barrel for you. They also usually notify you when to release by beeping.
Automatic curling irons come in a couple different formats. One version is an open-barrel wand with a short clamp or rotating prongs around the base of the barrel. The other looks like a torch that sucks hair into a curling chamber.
Traditional Curling Iron vs. Automatic Curling Iron
You might think that an automatic curler is easier to use than a traditional curling iron. That's not necessarily the case, as both require their own technique and some practice.
Traditional curling irons come in a variety of barrel sizes, allowing you to get a wide range of curls from tight ringlets to loose waves. You can generally curl hair the full length of your strands from near your scalp to the ends, especially with a small barrel.
For this reason, regular curling irons are also easier to use on shorter hair (shoulder-length and above).
Automatic curlers are mostly available in a 1" barrel size, limiting the variety of curls or waves you can create.
They're usually best for longer hair, and can save you a lot of time.
They do make it easier to create uniform curls around your whole head without too much effort, particularly if you want beach waves.
How Do You Use One?
If you've never used an automatic curling iron before, it can seem a little daunting or even scary to use. Hair and hot rotating tools can be a recipe for disaster if not used correctly!
With a rotating wand, place hair against the barrel and either clip the ends against the rod if it has a clamp or lay it between the barrel and prongs. Then, press the button in the direction of curl you want until your hair fully wraps around the barrel.
You'll see hair start to pull into and around the barrel while it turns. The iron should be held close to vertical near your head while curling. Then, when you're ready to release, pull the curler straight down.
The nice thing about the open barrel style is that if your hair gets stuck or tangled at any point, it's easy to just release it from the iron and untangle.
With the chamber style automatic curler, your hair is sucked into a small chamber surrounding the barrel. The barrel is quite short in this version, and the iron is usually heavier and bulkier because of the additional outer housing.
To use, place hair into the space between the barrel and the chamber housing. Once you've pressed curl or clamped the iron shut, let go of your strands, which gets sucked in automatically.
To release, pull the torch down vertically just like the open barrel curler, or open the clamp and slowly pull the iron away.
Who Should Get an Automatic Curling Iron?
An automatic curler can be great if:
You have medium-length to long hair
You find it difficult to create consistent-looking curls with a regular curling iron or wand
You prefer not to directly handle a hot iron
You're not that into doing your hair and would like an iron to do most of the work for you (and also tell you when to release)
Who Should Not Get an Automatic Curling Iron?
If you say yes to any of the following, I would recommend a traditional curling iron over an automatic:
You have shoulder length or shorter hair
Your hair is very stiff or tangles easily
You need a more streamlined tool for travel
Which Type of Automatic Curler Should I Get?
If you've decided that an auto curling iron is the way to go, the kind of curler you're most comfortable with is the one you should choose. Generally speaking, you'll get better results for:
| | |
| --- | --- |
| Auto Rotating Wand | Chamber Style Curler |
| Loose beachy waves or glamour curls | Well-defined spiral curls |
| Use of hair product | Naturally wavy or curly hair |
| Medium to fine hair | Dry, frizzy hair |
Tips and Tricks
Always work with dry hair! Actually, the best results usually come with day-old unwashed hair, because your scalp's natural oils have a chance to coat your strands, giving them more texture.
The chamber style self curler doesn't require much else other than dry combed hair.
For the rotating wand, you might need to use some product before styling if you have very fine, thin hair. It'll give your hair more texture so it grabs onto and stays on the barrel.
Also, if your hair is super long or doesn't curl easily, do two passes per section. On the first pass, place only the bottom half of your hair onto the barrel, rotate, and let it set.
Then, take the same section of hair but start up near your scalp (or where you would like the curl to start). Put the section onto the barrel once again and press rotate until the full length of your hair is wrapped around the barrel. Set and release.
Final Thoughts
You can create beautiful curls and waves by yourself with an automatic curling iron, even if you've never curled your hair before. It takes a bit of practice, but an automated curling iron can save time and effort once you get the hang of it.
For my money, the CHI Air Spin N Curl is the best automatic curling iron for most hair types. It's simple controls, cool outer chamber, and ease of use make it a great tool for creating beautiful, voluminous curls.