BIO IONIC Onepass Styling Iron
Embedded silicone strips grip and straightens hair in one pass
All-digital display and controls
Leaves hair soft and silky
INFINITIPRO BY CONAIR Tourmaline Ceramic Flat Iron
Extra-long tourmaline ceramic plates
Fast 15-sec heat up
Lightweight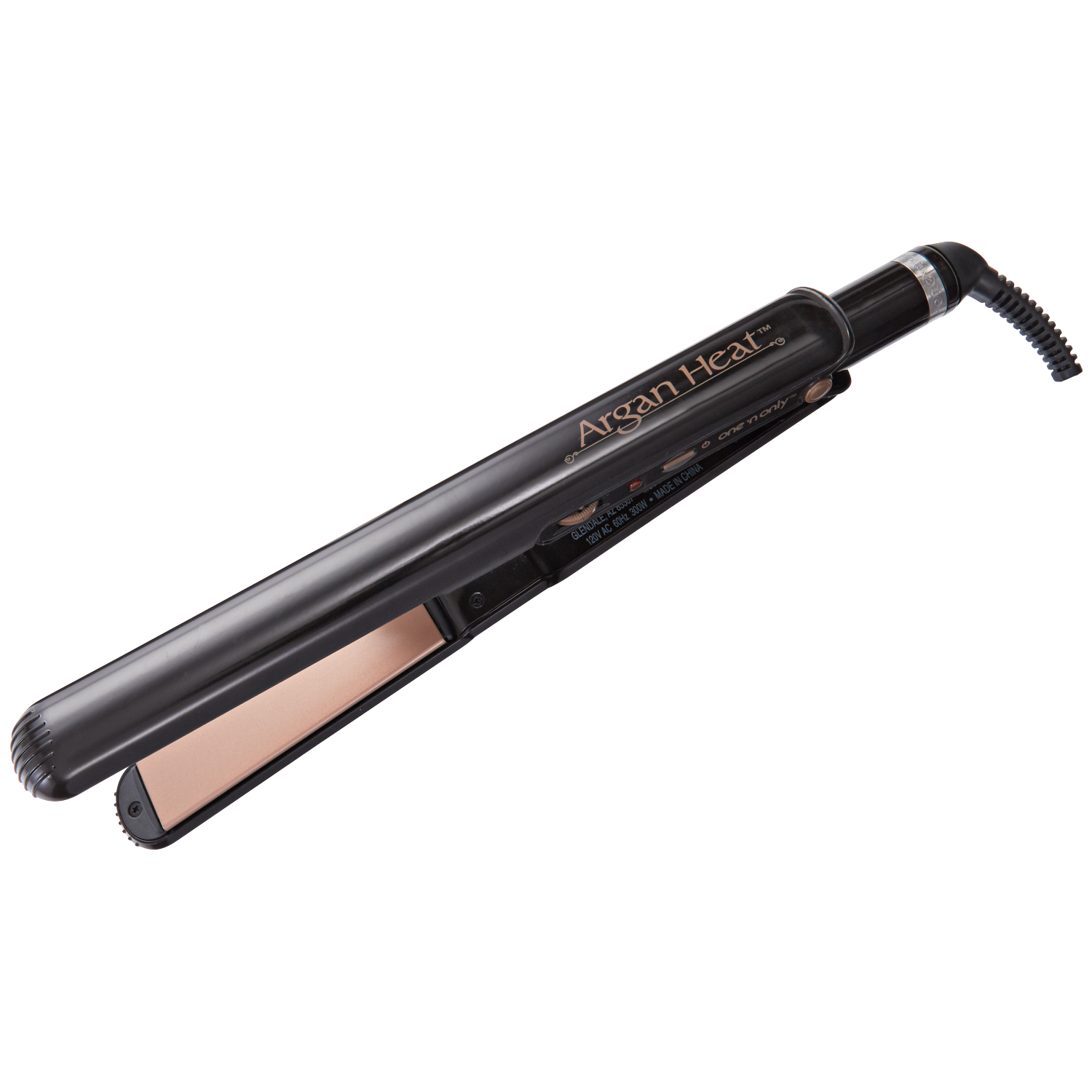 One 'n Only Argan Heat Ceramic Flat Iron
Argan oil-infused ceramic plates gives hair shine
Works great on natural or dry hair types
Excellent value
There's no shortage of ceramic flat irons around for all hair types these days. On the one hand, it's great to have so much choice, but on the other, it's easy to feel overwhelmed choosing between all the different models out there.
To make things worse, it's not always clear whether a particular hair straightener has ceramic plates or not.
Let's not waste any more time. Below are my picks for the top 5 ceramic flat irons, and what you should look for when picking the best one for you.
Top 5 Best Ceramic Flat Irons Reviews
The BIO IONIC OnePass is a salon-quality flat iron that manages to make even the most frizzy, dry hair look shiny and smooth.
Its ceramic plates have a thin silicone strip built-in to help grip each hair and make the glide smooth and efficient. This feature is in large part what helps it straighten in one pass, as it gently grips and distributes hair evenly across the plates instead of clamping them together in a bunch.
Two things make this a standout flat iron in my opinion: how quickly you can get through a whole head of hair (as short as 30 minutes even on long hair), plus its ability to make split ends disappear.
It actually makes your hair look and feel healthy and soft, not crunchy or stiff like some straighteners.
There's adjustable temperature settings from 265°F up to 450°F with full digital controls and an LED display. It also comes with a memory feature that remembers and heats up to the last temperature used when you turn it on again.
One issue that some users have experienced with the older model is the silicone strips coming off after a while. This version is the latest and greatest, and BIO IONIC seems to have improved the design so that this doesn't occur as much.
Overall, the OnePass is a fantastic flat iron that does a great job at making hair look incredibly healthy and smooth. Of course, the downside to this is it comes at a premium price.
Pros
Effective at straightening all hair types, usually in one pass
Makes frizz and split ends virtually disappear
Variable heat settings + digital controls from 265°F to 450°F
Universal voltage for worldwide use
Leaves hair feeling soft and healthy
Cons
Pricey
Silicone strips accumulate build up if not cleaned regularly
If any company is synonymous with ceramic flat irons, it has to be CHI. The company was one of, if not the very first brand to produce hair straighteners with ceramic plates.
The most popular and well-known model, CHI's Original 1" Iron is a pretty basic, no-frills appliance that does what it's meant to do: straighten and smooth. You simply turn it on, wait for it to heat up, and away you go.
It works quite well for making curls too, so it's a great multi-use iron if you don't want to invest in a separate curling iron.
Part of the reason it works so well for curling is because of the floating plates that flex from side to side as you pull hair through. I always prefer floating plates because it helps counteract any gaps or alignment issues between the plates. You get a smooth glide and there's rarely any snagging, if ever.
While all of the above is great and dandy, the biggest flaw with this straightener is the fact that there's no temperature control. There's only an On/Off switch, so you can't control the heat.
It heats up to 392°F when you turn it on – if that's too high or not hot enough for your hair, this likely won't be a good fit for you. On the other hand, it does ensure that you don't ever crank the heat past 400°F, which is better for your hair health.
Pros
Voted best flat iron by Teen Vogue, Influenster, and Totalbeauty.com
Long 11' swivel cord
Heats up very quickly
Works great for curls too
Reduces frizz and is easy to use
Cons
Only one temperature setting
Requires more passes on thick, coarse hair
Most drugstore flat irons don't usually cut it when it comes to quality, but the InfinitiPro Tourmaline Ceramic Flat Iron is a pretty solid number that holds its own among the salon brands here.
It's got loads of things going for it: ceramic infused with tourmaline for shine and frizz control, extra-long floating plates that can handle most hair types, and a super-fast heat up that beats most other straighteners.
Oh, and did I mention it's easy on the wallet too?
There are variable heat settings via a control dial that gets up to a whopping 455°F at the hottest, and it's light enough that you won't get cramps or tired arms after straightening your whole head.
So what's not to like? Well, it isn't as efficient as some of the professional straighteners as it doesn't maintain a consistent temperature as readily. As a result, you may need to do multiple passes to get a section perfectly smooth.
Some users have also experienced it turning off by itself during use. Overall though, it's got pretty impressive features and performance for a budget-friendly flat iron.
Pros
Popular and economical
Extra-long plates give you extra surface area for more coverage
Available in 1", 1 ¼" and 1 ¾" widths
Comes with a small bottle of argan oil
Auto shut-off safety feature
Cons
Slower heat recovery between passes lengthens overall straightening time
Sometimes turns itself off
Another popular hairstyling brand, BaByliss is generally known for their Nano Titanium flat irons, but their Porcelain Ceramic Straightening Iron is good for those of us who don't need or want the extra power of titanium.
The plates on this baby are made of porcelain – a higher grade of ceramic – that outperforms standard ceramic in generating even, gentle heat to reduce damage while you straighten. This makes it particularly useful if you have fragile, chemically-damaged, or fine hair.
Though it's not titanium, it does get impressively hot – up to 450°F with an adjustable control dial – but for the love of your hair, it's best not to use the highest setting if at all possible.
The glide is nice and smooth without pulling, and it's even capable of straightening in one pass if you use small enough sections at a time.
Now, let me just state this upfront: this flat iron does seem to be somewhat hit or miss. While many users swear by it for creating shiny, sleek tresses, others don't find it very effective at reducing frizz.
There are also mixed reports about the durability – some gals have used it happily for several years but others complain that it died inside of a year.
Pros
Recommended by many stylists to their clients
Adjustable heat settings from 235°F to 450°F
High-grade porcelain ceramic plates
Long, 360° swivel cord
Fast heat up
Cons
No auto shut-off function
May not have the longest lifespan
One of the cool things about ceramic is that it's often infused with other materials to aid in creating smooth locks. Tourmaline is most commonly paired with ceramic for combating frizz and making hair look smooth and sleek.
But did you know that there are oil-infused ceramic flat irons too?
Because ceramic is porous, argan oil, agave oil, and even keratin oil can be infused with it in the manufacturing process. When heated, the oil vaporizes and transfers to your strands as you straighten, moisturizing and coating them for a beautiful, shiny finish.
To be clear, oil-infused plates are separate from vaporizing or steam flat irons with a cartridge you fill with water and oil. The One 'n Only Argan Heat Ceramic Flat Iron is a flat iron with argan oil-infused plates – you get the benefit of the argan oil without any mess or greasy strands.
It's great on natural or dry hair types specifically because it's very effective at smoothing and straightening while protecting strands from frying.
The package includes a small 1 oz. bottle of argan oil that you can apply for even more protection, though it's not necessary to use if your hair isn't super dry or damaged.
There's a control dial with adjustable heat (and it gets plenty hot – up to 450°F), as well as a long 8' swivel cord for easy maneuvering without tangling yourself up.
A word to the wise: the temperature can get screaming hot even well below the highest setting, so be careful with it. Start low and raise the setting slowly as necessary to prevent damage.
Pros
Argan oil-infused ceramic plates make dry, frizzy hair smooth and shiny
Available in 1" and 1 ½" widths
30 heat settings
Works on colored, natural, and stubborn hair types
Great value for the price
Cons
Heating element may not correspond accurately with dial setting – gets extremely hot even at lower settings
Why Ceramic Plates Are So Popular
Ever since ceramic was first used in heat styling tools, it's quickly become the most common material in plate and barrel construction for both flat irons and curling irons.
It's a great material for hairstyling because it's able to produce a gentler heat than a metal iron, maintains an even, consistent temperature, and has an exceptionally smooth surface.
Heated ceramic produces far infrared, a longer wavelength form of radiating heat that can penetrate and heat each strand from the inside out, reducing the potential for damage.
It can also tame frizz by generating negative ions, which smooths the cuticle layer down by neutralizing the abundance of positive ions present in dry, frizzy locks.
The hard, smooth surface of ceramic glides easily on hair, and it's a highly versatile material that can be infused with other elements to enhance it's straightening and smoothing capabilities.
If you're not sure what type of flat iron to get, it's a safe bet to go with a ceramic straightener since it's appropriate for all hair types, and is especially good on fine, fragile, or damaged tresses.
You can find one in every price range from super budget to ultra-premium salon-grade and everything in between.
Ceramic Flat Iron Types
There are multiple flavors of ceramic flat irons available out there. You're probably familiar with at least a few already, but let's go over the different varieties, along with their benefits:
Ceramic-Coated Plates
On the most basic level, it's important to know that ceramic plates aren't necessarily 100% ceramic – often they're just coated in ceramic with metal plates underneath. This is most common in budget or lower end irons.
The thing to be careful of with ceramic-coated plates is that they can chip or wear down over time, exposing the metal underneath. This can create the potential for hot spots and possible damage to your hair, requiring you to replace your straightener if the coating falls off.
Solid Ceramic Plates
Solid ceramic plates are definitely recommended over ceramic-coated ones, but they generally cost more.
It's not always easy to know whether your flat iron has solid ceramic plates or is only ceramic-coated, but higher end irons from a reputable brand like CHI or T3 will usually have solid ceramic plate construction.
Tourmaline-Infused Ceramic
The most common added element to ceramic plates is tourmaline, a semi-precious gemstone that generates negative ions when heated.
It's crushed and infused into ceramic plates to boost the effects of smoothing hair out and closing the cuticle layer. If you use a flat iron to tame flyaways, frizz, and get that glass hair look, tourmaline-infused ceramic plates are what you want.
There are tons of tourmaline ceramic flat irons available, so you're sure to find one in any budget.
Titanium-Infused Ceramic
If you've been debating whether to get a titanium or a ceramic flat iron, you don't even necessarily have to choose between the two materials when you can have both at the same time.
Titanium-infused ceramic flat irons like the CHI G2 Titanium-Infused Ceramic Straightening Iron give you the best of both materials. Because ceramic is heavier and prone to chipping, adding titanium makes the plate lighter and more durable.
Titanium's superior heat conductivity also gives you a very quick heat up, plus faster recovery time between passes. In short, it ups the efficiency so you're not spending upwards of an hour styling your hair.
All of this combines with ceramic's frizz-reducing capabilities and consistent, far-infrared heat for an impressive combo that can tame practically any hair type into smooth, soft, straight tresses.
Oil-Infused Ceramic
Styling dry, frizzy hair can be a challenge, and heat styling isn't usually recommended due to the drying nature of heat.
Applying oils and serums to protect and hydrate can also get messy. Plus, what if you still want straight hair?
The answer: use an oil-infused flat iron.
A small subset of flat irons are manufactured with oil (usually argan or keratin oil) baked into the ceramic plates. When heated, the oil activates and transfers directly onto your hair while you press them between the plates.
Another subset of oil-infused flat irons have a small removable cartridge that you fill with oil and snap onto the iron before using. This infuses even more oil into coarser, thicker hair types that need it for extra hydration and protection.
Steam Flat Irons And Wet-To-Dry Straighteners
While we're on the topic of removable containers, I'd be remiss if I didn't include steam flat irons that utilize water vapor, or steam, to help straighten your hair. These are specialized straighteners that have vents either built into the plates or on the outer shell for steam to escape.
Instead of oil, you fill the small cartridge with water, reattach it to the flat iron and then switch it on. (You can even mix in a few drops of argan oil in some models.) Once it's ready, the steam action works when you clamp and glide your hair between the plates.
There are also wet-to-dry flat irons that can be used on damp hair for dual drying and straightening at the same time.
Both of these specialized flat irons are nearly if not always paired with ceramic plates.
Ceramic Flat Iron Buying Guide
Here's what you want to look for in your next ceramic flat iron:
Must-Have
Temperature Controls – It's always better to be in control of the amount of heat applied to your hair. Look for variable temperature settings that you can set with either an analog control dial or digital display and control buttons. For fine or fragile hair, make sure the low setting starts below 300°F.
Plate Width – The standard 1" is the most common width and works for most lengths and styles. Wider options up to 2" are available for extra long hair, as well as narrower ones as small as ½" wide for bangs, touch ups, and pixie cuts.
Nice To Have
Floating Plates – Floating plates are helpful because they tilt from side to side, keeping hair securely clamped between the plates at all times. Anchored or fixed plates don't move, leaving gaps that hair can slip through without getting straightened.
Longer Plate Length – Most standard flat irons come with 4" long plates, but some have extended plates that can handle larger sections at a time.
Rounded Plate Edges – if you like to curl your hair with your flat iron, get a straightener with curved plate edges and a rounded outer shell construction so you don't leave creases in your hair.
Dual-voltage capability – Always nice to have if you travel internationally with your flat iron.
Auto shut-off – If you're forgetful or always rushing out of the house in the morning, this might be a must-have.
Bottom Line
Picking a good hair straightener is serious business for those of us who love perfectly smooth, straight locks.
With so many ceramic flat irons to choose from, it can be hard to pick the right one for you when new models and technologies keep coming out year after year. Sometimes, the best ones are old favorites that have been around for a while, like the CHI Original 1".
In my opinion, the latest BIO IONIC OnePass is tops for how well it not only straightens and smooths, but makes your hair look and feel healthy. Not a lot of flat irons can do that in one pass, so when you get that magic combination, you know you've hit the jackpot.