Creates beautiful beach waves
Easy for beginners to use
Lightweight
Creates tighter waves for a more crimped style
Efficient titanium barrels can handle coarse, thick hair
Great for adding volume
Adjustable middle barrel for different size waves
Tourmaline ceramic smooths frizz
Works well on fine or short hair
I love me some super sleek glass hair, but my next favorite look is the flowy, fun mermaid wave. The usual options for getting the style are either sleeping in braids (which doesn't always turn out so well), or creating waves with a curling iron.
If you don't enjoy manually wrapping sections of hair, a 3 barrel curling iron might just be the tool for you.
While it looks a little clunky and aggressive, it's really quite simple to use because it functions like a crimper.
The Best 3 Barrel Curling Irons
There are a good number of triple barrel curlers out there that all look more or less the same. Don't be fooled by looks though, some are definitely better than others. Here are the top 4 in my book:
The Alure Three Barrel Curling Iron is a real winner for easy, bouncy waves. It has an easy-to-read backlit LCD temperature display and digital temperature controls. It's also got a quick heat up that goes from 0° to 410°F in only one minute.
You adjust the temperature with a click of a button, offering you total control throughout the process. As usual, remember to use lower settings for fine or damaged hair and higher options for coarse or thick locks.
A 360° swivel cord makes maneuvering the iron a breeze as you work your way along your tresses. The handle is non-slip and there's a metal heat stand at the bottom that keeps the hot barrels from laying directly on your countertop. I love this because I've definitely scorched my countertop with other irons in the past!
The ceramic 1" barrels are also coated with tourmaline, which helps give your locks a smooth finish.
If you travel a lot, this triple barrel iron can go with you on international trips too, being dual voltage 110/220V.
The only complaint I have is that the power button is located where you can accidentally turn the iron off while in use.
Pros
Heat stand that props the barrels up and away from your counter
Fast 60 second heat-up time
Lighter than it looks
Digital temperature gauge and controls
Dual voltage worldwide compatibility
Cons
Temperature displays as Celsius only
On/Off button placement not ideal
Revlon's a well-known brand in the haircare industry and they didn't miss the train with this device either.
The tourmaline-ceramic barrels include two of the same size and one that's slightly larger, which gives a less uniform, more tousled wave.
It includes 30 heat settings up to 420°F (there's no indication what the lowest setting is, however). Regardless of your hair type, you should have plenty of flexibility here.
Additional features include a locking ring to keep it safely off and out of the reach of your little ones at home. The storage loop gives you the ability to hang it on a hook, which is nice when you don't want to put it in a drawer right after use. The swivel cord makes it easy to maneuver and keep it from tangling up too.
Do keep in mind that this item is bulky and some have stated it takes a while to get used to for this reason. A little patience could go a long way.
Pros
Two barrel sizes for a more natural looking wave
Locking ring and storage loop gives you more storage options
Trusted brand
30 heat settings
Surprisingly lightweight for the size
Cons
Some users don't think it gets hot enough for their hair
Heat settings do not specify actual temperature
The biggest benefit with this waver is the ability to customize how deep or shallow a wave you want. The middle barrel is adjustable with a twist knob at the top, giving you 4 different depth levels. The higher you set it, the deeper and more pronounced your wave will be.
There are also six heat settings, from 250° to 400°F. The barrels are constructed from both ceramic and tourmaline, the latter offering you some degree of protection from the heat. This should help with frizz as well.
Power and heat controls are located on the inside of the handle, while the temperature display on the outer handle makes it easy to see what setting you're on.
This 3 barrel waver is another great option if you travel internationally, with its dual-voltage capability. Plus there's a 60 minute auto shut-off function for added safety.
On the downside, there's no heat stand to keep the hot barrels off your counter. There's no lock feature either, so the iron stays open even when not in use.
Pros
Tourmaline-infused ceramic for frizz control
Adjustable middle barrel gives you the option of deep or shallow S-waves
Auto shut-off after 60 minutes
Dual-voltage capability
Cons
Some people are only able to get a crimped look
No lock position for storage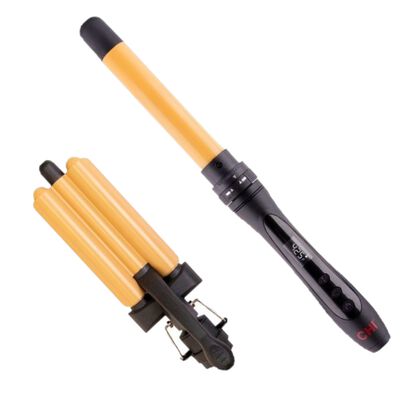 Interchangeable Curl and Wave Kit Duo
from: Sally Beauty
The Ion Titanium Triple Barrel Waver is a good choice if you're going for a tighter, crimp-like wave. This seems to take some users by surprise, so just know that this won't be as good if you want loose, beachy waves.
The biggest benefit of this waver come from the titanium barrels. Titanium is a high-strength metal that heats up quickly, distributes heat evenly, and resists corrosion. No one likes a rusty tool, so it's worth the investment if you use a good amount of hair product before styling.
You can set the temperature with digital controls to anywhere from 180° to 450°F, making it versatile for all hair types from thin and fragile to thick and coarse.
Can we talk about the gorgeous deep violet housing? I know it's not really material to the overall function, but aside from it's curling capability, I love the design and color of this waver.
For those days when you didn't sleep in braids overnight, you can still create that pretty wave in the morning with the Ion Triple Barrel Waver.
Pros
Titanium barrels heat very quickly and evenly and resist corrosion
Safe on all hair types with proper temperature setting
Digital temperature display and controls
60 min auto shut-off
Good for defined, consistent waves
Cons
Some users have experienced a burnt smell after use
What Is a 3 Barrel Curling Iron?
A 3 barrel curling iron, also called a triple barrel waver, is pretty much what it sounds like – a curling tool with 3 barrels instead of one. The 3 barrels sit side-by-side when closed shut, so it's much wider than a traditional single barrel iron.
The depth and size of the barrels will vary between irons, with larger varieties producing bigger, flowy curls, and smaller ones giving you a tighter S-wave.
The curling technique differs too. You don't twirl your hair around the barrel the way you do with a regular curling iron. Instead, you place a section of hair between the outer and middle barrels, and then clamp down to press your hair.
A triple barrel curling iron may be the right option for you if you:
Have frizzy hair: The tool is often made with tourmaline-ceramic technology that helps reduce all those flyaways and static bits.
Find standard curling irons difficult to use: If you feel uncoordinated trying to wrap your hair around a curling iron, triple barrel irons make it easier with just a clamping action.
Are looking to limit heat damage: With various heat options, you should be able to achieve the look you want with minimal consequences.
Have medium-to-long hair: Because of the size of these devices, they're best suited for those that have some length to their locks.
Deep Waver vs. Triple Barrel
If your hair's on the shorter side, a deep waver might be a better option for you. They're similar to a triple barrel curling iron and many use the names interchangeably.
However, they're slightly less chunky in size and feature just one barrel instead of three. They still offer the ability to create volume and larger curls but have less flexibility with other styling techniques.
Benefits of Using a 3 Barrel Curling Iron
You might think that a 3 barrel curling iron is only useful for people with straight hair, but in fact, a good number of users who use one already have naturally wavy or even curly hair.
Here are a few other reasons you might want to invest in a 3 barrel curler:
Great Hair Tamer: One of the best things about a 3 barrel curling iron is that, aside from giving your locks a bit of curl and flair, it's also a great tool for taming frizz into shiny, smooth tresses.
No Twirling Required: They look intimidating at first, but the crimping action is easy to pick up even if you don't have a lot of experience.
Versatility: You can vary your look by holding the curler either vertically or horizontally to create waves going in different directions. You can also create uniform, consistent curls for a more precise, piece-y look, or subtle, tousled waves that you brush out after styling.
Features to Consider
While all 3 barrel curling irons share the same distinct shape, they'll differ according to the brand and specifications they offer:
Materials
The most common materials used in the construction of 3 barrel curling irons are ceramic and tourmaline.
Often times, they're used together, where ceramic is the main component, with crushed tourmaline or a tourmaline coating on top. This gemstone is touted for its ability to help with shine and produce a frizz-free result. Many say this is due to the negative ions that it carries.
I recommend opting for one with tourmaline for this reason, especially for fine or frizzy hair.
You can also find some made of metal, like gold or titanium, though the vast majority are ceramic.
Heat Settings
The more heat setting options, the better. This provides you ultimate control over your styling session and can help preserve your hair by not overheating it time and time again. For those with fine tresses or easily-damaged locks, this is essential.
Many of these devices reach up to 400° to 450°F. You'll adjust this either with a manual dial or through + and – buttons and a digital display.
Swivel Cord
A swivel cord may not be a must, but it's certainly a convenient option. This prevents the cord from twisting around itself and allows you to approach your hair from any angle you want.
The cord won't be getting in the way and it makes the process all the more efficient. I can't tell you the number of times I've found myself frustrated with static cords while I'm in a rush in the morning, no thank you!
Safety Features
Are you forgetful? Maybe you have little ones around who make their way into the bathroom while you're getting ready.
In either case, additional safety features can offer you peace of mind. These usually include an automatic turn-off feature and safety lock, among others.
You won't have to rush home after realizing you left it on, or be filled with dread when you hear your child entering the bathroom when you're across the house.
How to Use a 3 Barrel Curling Iron
Now that you're ready to invest in one of these curl masters, let's go over some steps to help you out:
Preparations: Wash and dry your hair as you normally do. We recommend air-drying to save on heat damage. If you must blow dry, allow your hair to dry naturally about 50% of the way before using a hair dryer on low.
Comb and apply product: Use a heat protectant before beginning to curl. This can come in the form of spray or cream, among others. A serum with glycerol may help avoid split ends. Alternatively, something with argan oil will also protect your hair due to its fatty acids and vitamin E. Comb each section out and apply some hair spray before curling if your hair is style resistant.
Divide hair into sections: Use clips to section off your hair accordingly. This will allow you to see what portions you've already curled and which you haven't. It'll also help the process move quicker.
Curl: Clasp the bottom of the chosen section of hair between the barrels and the lid. Hold steady for four to five seconds then release. Make your way around until you've covered your whole head.
Let set and cool: Don't tousle or comb through right after curling. Wait a few minutes for your hair to cool down first. This ensures your curls set and stay in longer.
Finish: A light hairspray can come in handy at the end to set your style.
Tips and Tricks
It will take some practice to get the hang of using a 3 barrel curling iron. But once you get it down, it may very well become one of your favorite hair tools. A few tips for success:
Use a texturizing hair spray: For better hold and definition, spray and comb through each section with a bit of texturizing hair spray before curling.
Sea salt: Using some sea salt spray after curling will add volume and a more tousled look. It's great for second-day hair as well.
Don't rush: Prep work goes a long way. If you set the stage properly, you won't need to rush through it and end up with a botched job.

Avoid the hairdryer:

The less heat, the better. Unfortunately, we have to use some heat when styling our hair. But if you're going to invest in a 3 barrel curling iron, it's best to cut back where you can. Air-dry overnight instead.
What Other Options Are There?
A triple barrel iron can make it a breeze for creating beautiful wavy hair. Yet what I've learned over the years is that everyone has their own preference when it comes to the best tool for achieving those waves.
If you find a triple barrel waver clunky and hard to use, you can achieve the same look with these curlers too:
Hello Beachy Waves
If you're looking for that summery beach wave without sleeping in braids overnight, consider adding the 3 barrel curling iron to your arsenal of beauty products.
My favorite is the Alure Three Barrel Curling Iron for its ease of use and effectiveness, while still being gentle on finer hair. It's non-slip handle and heat stand are great for keeping both you and your countertop safe.
Despite the clunky look of these devices, they can really churn out some head-turning waves and curls. Share your experience or let us know what your favorite 3 barrel waver is!